The INVISIBLE GUY
a real soundtrack for an imaginary spy film

Episode Thirty-Six - MR. MOJO (Evil Has A Name)


Copyright © 2003 - 2006 Arthur Jarvinen
Suggested Procedure: READ FIRST, then CLICK HERE TO LISTEN. Or, listen first if you like, but in either case take Frank Zappa's advice and "Do not read & listen at the same time".
Previous Next Episode Contents (all episodes to date)

_____________________________________________________________________________________________________________________
Scene: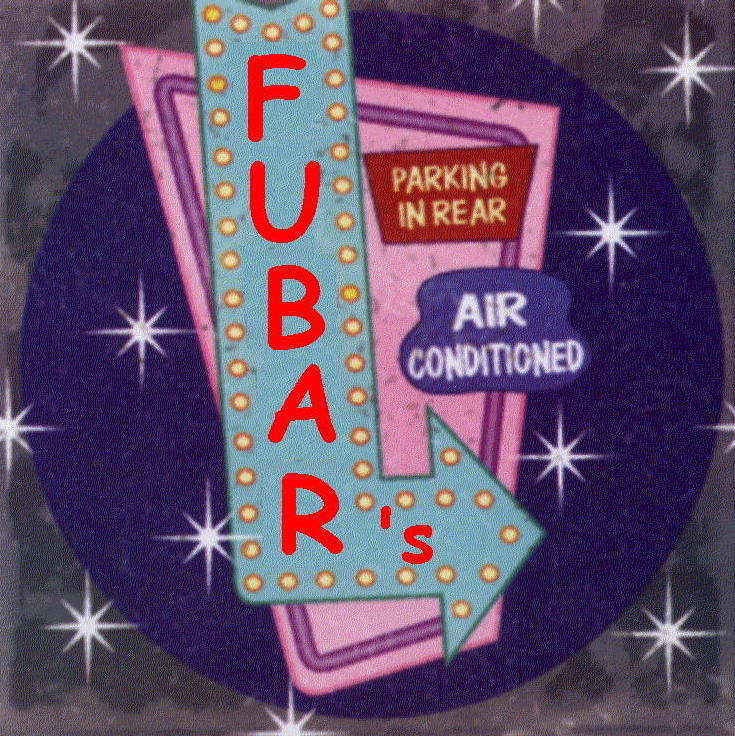 Mojo Stang and his entourage are drinking and dancing in one of his favorite clubs, FUBAR'S, which he also happens to own. Stang is in an unusually good mood and has been really getting down on the dance floor with several lovely ladies at once. Eager to dance some more, he cuts the band's break short; they don't even have time to finish their "xerox sandwich" before scrambling back on stage. The band is, of course, Scab and the Boogers.
One of Mojo Stang's lady friends takes Scab aside and tells him "It's Mojo's birthday, and we want to have a little fun with him, roast him a little, you know what I mean". She gives him a cocktail napkin with some lipstick scribbling on it. "These are just some ideas to get you started. I'm sure you can just wing it once you get into it". Scab, taking a quick peek, hesitates "Oh man, I'm not so sure".
"Don't worry, he's a real good sport. He'll love it – probably even tip you!" Giggling, she hurries back to Mojo's table.
"Whaddaya think?"
Lance, looking briefly at the napkin says "Oh yeah. This is right up my alley. Just pump up My Corona and I'll take it home".
(
Rodd Lundgren is the leader of a Saint Paul band called The Naxx. They're a little older than Scab and the Boogers, but went to the same high school and are sort of role models for them. The Boogers take a lot of inspiration from The Naxx, and Rodd has been very encouraging of his younger colleagues. When he attended one of their shows and saw how much beer Scab could drink during the set he wrote a song for them, called "My Corona". The Naxx recorded it, and it became a regional novelty hit on college radio. But when the record went to pressing, the mastering house screwed up and got it mixed in with the record that, ironically, The Boogie Men had done session work on, by Christ's Child, the blind and crippled twelve year old Christian pop singer from Milwaukee. So, quite unintentionally, seventy-eight thousand copies of the record were pressed on red vinyl, standard practice for the Stigmata label, but not intended for the Naxx single. They caught the error before pressing the B side, then made good on the original order of 50 copies with a throwaway number, Black & Tan, on side B, pressed on black-and-tan swirl vinyl that would make you puke if you watched the record spin while playing. But, hoping to get back a little something on their investment of time, labor, and materials, the pressing plant circulated fifty thousand bootlegs of the red ones. Those have since become highly sought after collectors items fetching up to $75 apiece, whereas the real ones, though almost impossible to find, are completely disregarded and generally considered worthless. Go figure.
)
Rat is even more reluctant than Scab however, being, as a result of their recent recording session in Milwaukee, a newly-born-again Christian, and seriously concerned about whether he should even be playing in bars, let alone insulting someone's good name in some sort of mock ritual no doubt of pagan origin.
"Then lay out, or play chimes ya Jesus freak! " Lance blurts at him as Scab gives the count-off.
The band launches into the song, and Mojo Stang is shaking booty and bumping rumpus all over the place. When they get to the solo vamp Lance rolls around on the floor a bit, yodeling to get in the spirit, then starts doing his thing, quickly finding a rhythm and improvising insults in the inimitable style for which he is so highly regarded, and rightfully so.
After a couple of phrases everyone on the dance floor is motionless, and Mojo Stang is glowering at Lance, red-eyed. But the band is pumping, and Lance is beyond the point of no return, ad libbing lyrics in lock step with Rat's pounding drum beat as Mojo Stang's girlfiend does her damnedest to suppress her laughter.
……………………………………………..
The song over, Scab says to Lance, off-mike "Nice work my friend. You do honor to your profession."
Mojo Stang tells Phez to stay behind and make sure the band is dead before the kitchen closes, then promptly exits with his entourage, the girlfiend on his left arm barely suppressing her laughter as she looks over her shoulder and blows Scab a little parting kiss.
……………………
Claude, taking a seat in the mezzanine, sets his copy of Anarchy, State and Utopia by Robert Nozick on the table while pondering whether to order a black & tan or the bartender's special of the month, a Montana-style "red beer", i.e. Corona laced with tomato juice.